Fried anchovies and peanuts is great with rice. In
nasi lemak
, for instance, it's one of the standard side dishes. For me, I find it a bit dry with rice. I like to eat it with
Teochew porridge
but mostly I eat it as it is as a savory snack.
You know how too much chocolate leaves a sweet aftertaste in your mouth and you long for something salty? That's a little craving I have not infrequently, especially in the afternoon after my Kit Kat break.
Being a well organized person who doesn't like to panic when confronted with such a culinary emergency, I like to keep a ready supply of the antidote in the fridge.
The key component of the antidote for sugar is, of course, salt, of which dried anchovies have plenty. So, I make a good size amount of fried anchovies, more rather than less because I want to make the most out of the oil I'm going to throw away.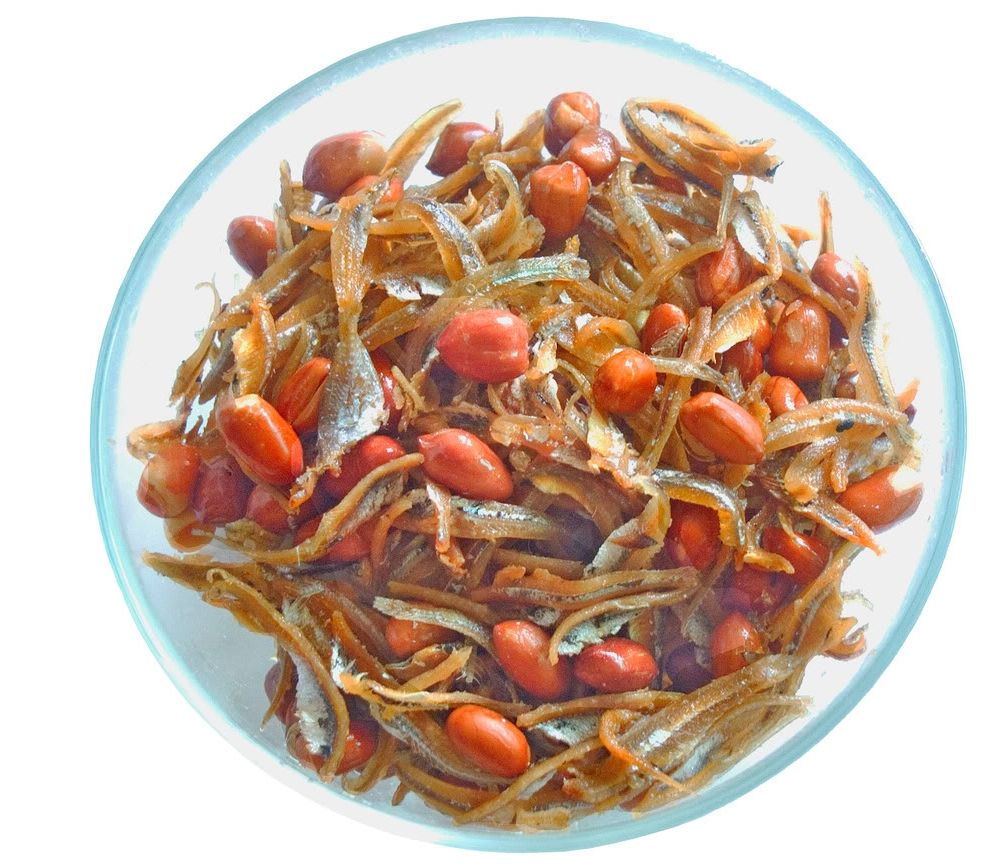 Fried peanuts make a classic combination with fried anchovies. The additional calories from the nuts doesn't spoil my diet since there isn't one. It flies out the window every time I set my eyes on chocolate.
The dosage for the sugar antidote is two tablespoons immediately after sugar consumption. Unfortunately, the antidote is addictive and more often than not, I eat a whole plateful.
You know how too much salt leaves you craving for something sweet? Back to Kit Kat . . . . Oh dear, I think I need help.
FRIED ANCHOVIES AND PEANUTS


(For 4 persons)

50 g dried anchovies (

ikan bilis

), without bones and heads
50 g dried, raw peanuts
150 ml vegetable oil
a pinch of salt (optional)

Wash and drain anchovies twice to remove excess salt. Squeeze and pat dry with paper towels. Heat oil in a pan till smoking and add anchovies. Fry, stirring occasionally, till almost golden brown. Remove with a slotted spoon and drain on paper towels.

Reduce heat to low. Let oil cool down slightly. Put one peanut in the oil to check that it's not too hot. Oil should not bubble on contact with raw peanut. Add all peanuts to oil when temperature is right. Stir to distribute heat evenly. Pick a peanut without skin and watch it. When it changes color slightly, turn off heat and quickly remove peanuts with a slotted spoon. Drain on paper towels and – if you think the anchovies aren't salty enough – toss peanuts with a pinch of salt. Combine fried anchovies and fried peanuts. Eat with rice, chocolate or beer. Have I ever eaten all of these together in one go? I'm not telling you.