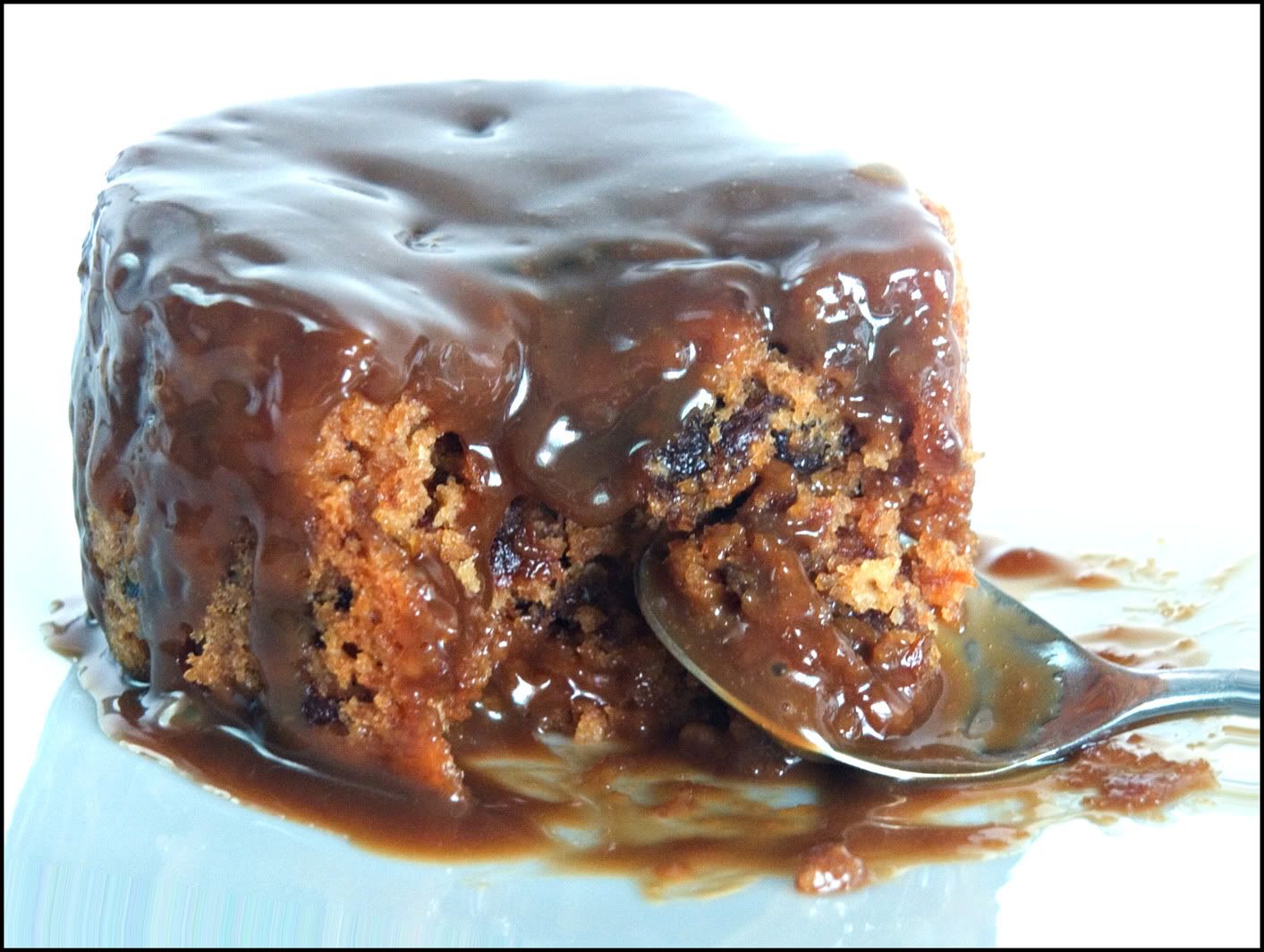 Sticky Toffee Pudding, an English pudding, is traditionally made with dates. But because I don't have a date, I make prune pudding instead. HA . . .
ha . . .
and tell lame jokes, obviously.
Aiyah
, I just prefer prunes because they are less sweet.
I haven't made Sticky Toffee Pudding for a long time, so I pulled out my recipe this morning and did a test run. I'm going to make some – with dates – for my Muslim neighbours. They are fasting now, and will be celebrating Hari Raya Puasa on 20 September. Traditionally, Muslims eat dates when they break their fast. Besides energizing with their high sugar content, dates are also spiritually significant
because they were one of the Prophet's most frequently consumed foods. (Click
here
for more information on dates and fasting for Muslims.) My Malay neighbours are extremely friendly, and they pop over every so often with some goodies. See the photo of the chicken curry? That's from them. It was reheated a day after it was cooked but still looked and tasted gorgeous. I reciprocate every now and then, especially when I can make extra portions with no effort at all. Like homemade cookies. Of course, I never ever give them curry since that would be like making Kimchi for a Korean or Tom Yum Soup for a Thai. I think they will be very pleased with a gift of Sticky Toffee Date Pudding. It's appropriate for the religious festival and is something familiar yet new. And it reheats very well, so they can eat it whenever they want. Knowing them, they will be cooking
tonnes
of food, and giving me some. Mmm mmm, I'm looking forward to that.
STICKY TOFFEE PRUNE PUDDING


(For 6 persons)

This recipe is adapted from Angela Nilsen's

Ultimate Sticky Toffee Pudding

. It's slightly less sweet and not as rich.

225 g pitted prunes, roughly chopped
175 g (180 ml) boiling water
1 tsp vanilla extract
85 g butter, softened, plus extra for greasing
60 g dark muscovado sugar (or soft dark brown sugar)
60 g demerara sugar
2 eggs
100 ml milk
175 g self-raising flour, plus extra for dusting
1 tsp baking soda


Toffee Sauce


100 g dark muscovado sugar
300 g thick cream

Pour boiling water over prunes and soak for 30 minutes till soft. Add vanilla extract and mash with a fork.

Position oven rack in the middle and preheat oven to 180°C (360°F). Butter and flour the sides of 6 small pudding tins, each about 200 ml (7 fl oz). Alternatively, use small ramekins or ceramic rice bowls. Trim 6 pieces of parchment paper and place one at the bottom of each pudding container. Place pudding containers on a baking sheet or pan. Puddings can also be steamed. If steaming, bring a wok or big pot of water to a boil.

Beat butter with demerara sugar and dark muscovado sugar till smooth. Add eggs, then milk and prune mixture in stages and beat well in between each addition.

Sieve flour and baking powder over mixture and fold in evenly.

Divide pudding mixture amongst containers and bake, or steam on medium heat. Check after 20 minutes for metal containers, or after 25 minutes for ceramic containers. Puddings are done when an inserted skewer (or chopstick) comes out clean.

Unmould by running a small knife between the pudding and container and turn it upside down on a serving plate.

To make the sauce, put dark muscovado sugar and cream in a pot and bring to a boil. Simmer on low heat till thick. If you want a richer sauce, add a knob of butter to the sauce.

Drizzle sauce over puddings and serve immediately.

Alternatively, wait a day or two for a more sticky pudding. Unmould puddings, then pour half of the sauce into the containers and swirl it round the bottom and sides. Put puddings back in, and top with the remaining sauce. Swirl containers around and let the sauce trickle down the sides. Leave puddings in the fridge, covered, for a day or two. When ready to eat, zap 'em in the microwave. Or bring puddings back to room temperature, then reheat by steaming or in a preheated oven at 180°C (360°F) for 15 minutes or so till heated through.