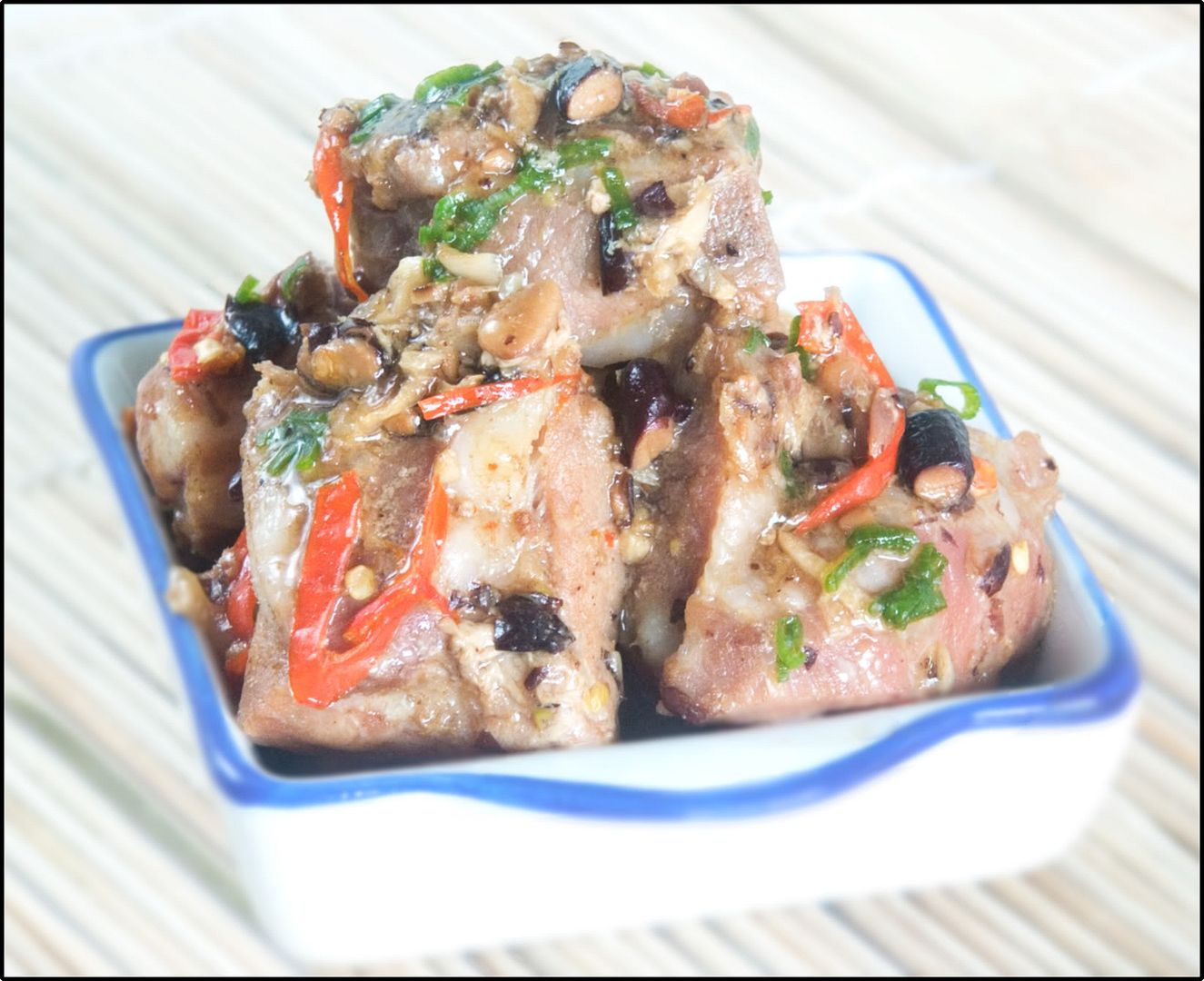 One of my favourite dishes is steamed pork ribs with fermented black beans, a standard item at
dim sum
restaurants. But I don't like ordering it when I'm on a Sunday
dim sum
pig-out, because I like to eat it with rice. All that savory, fragrant and umami goodness from the ribs just begs to drench a bowl of steaming white rice! But I can't have rice during a
dim sum
pig-out because it would take away tummy space for the other goodies, right?
*sigh . . .*
Sometimes, I wish I had four stomachs like a cow.
Hey, hang on a second!
I'm not a cow but I'm a tigress in the kitchen! I can make my own steamed pork ribs at home. Easy peasy.
To make steamed pork ribs with fermeneted black beans, I start with stir-frying garlic, ginger, fermented black beans and chillies. This is a classic technique used in Chinese cooking to enhance steamed dishes which might be a bit bland otherwise. The ribs are marinated with the aromatic mixture, then steamed till tender. The result is so good and so perfect with a bowl of rice, it's all I want. Nothing else.
STEAMED PORK RIBS WITH FERMENTED BLACK BEANS


(For 2 persons)

250 g pork ribs, chopped into 1-inch long pieces
1 tsp vegetable oil
1 tbsp finely minced ginger
1 tbsp finely minced garlic
2 tbsp fermented black beans, roughly chopped
1-2 bird's eye chillies to taste, slice thinly
1 tbsp Shaoxing wine
1 tsp light soya sauce
1 tsp oyster sauce
large pinch of sugar
1 tsp cornflour
2 tsp roughly chopped spring onions

Wash and drain ribs. Stir-fry ginger in vegetable oil over medium heat till lightly golden. Add garlic and stir-fry till lightly golden as well. Reduce heat to low. Add fermented black beans and chillies. Stir-fry, drizzling with 1 tbsp wine when the wok is very hot and black beans start to stick to wok. Mixture is very dry because there's very little oil. Drizzle with 1-2 tsp water if necessary to prevent beans from scorching. Stir-fry till mixture is very fragrant. Add to ribs, along with light soya sauce, oyster sauce and sugar. Cover and marinate for 2 hours, refrigerated. Add cornflour and mix through. Steam till tender, about 1½ hours. Taste and adjust seasoning if necessary. Plate and garnish spring onions. Serve with steamed rice.