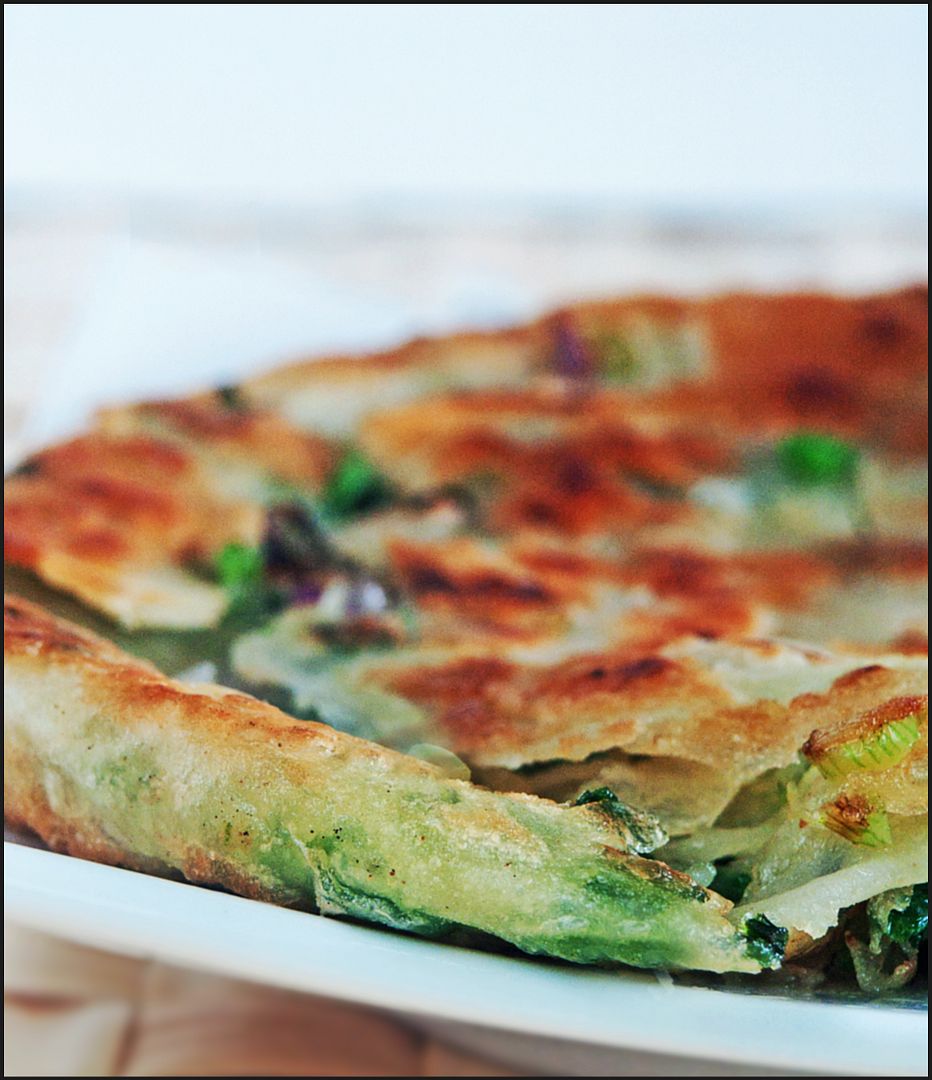 Spring onion pancakes – 葱油饼 – are a common street food in China and Taiwan. Available any time of the day, they're particularly popular for breakfast.
Contrary to its name, spring onion pancakes are an unleavened, fried bread, not pancakes. And "葱油饼", strictly speaking, means spring onion
oil
pancake. But I guess it's good marketing to omit the word "oil"!
A good 葱油饼, best enjoyed hot from the pan, is crispy and flakey outside whilst the inside is chewy, interspersed layers of dough and spring onions.
There're only four ingredients – flour, spring onions, oil and salt – but when done well, freshly fried spring onion pancakes are absolutely delicious, especially when they're washed down with sweet soya bean milk or
teh halia
.
SPRING ONION PANCAKES (葱油饼)
(Recipe for 8 pieces)
350 g plain flour (2½ cups)
2 tsp salt
6 tbsp vegetable oil
120 g thinly sliced spring onions (aka scallions and green onions) (1 cup)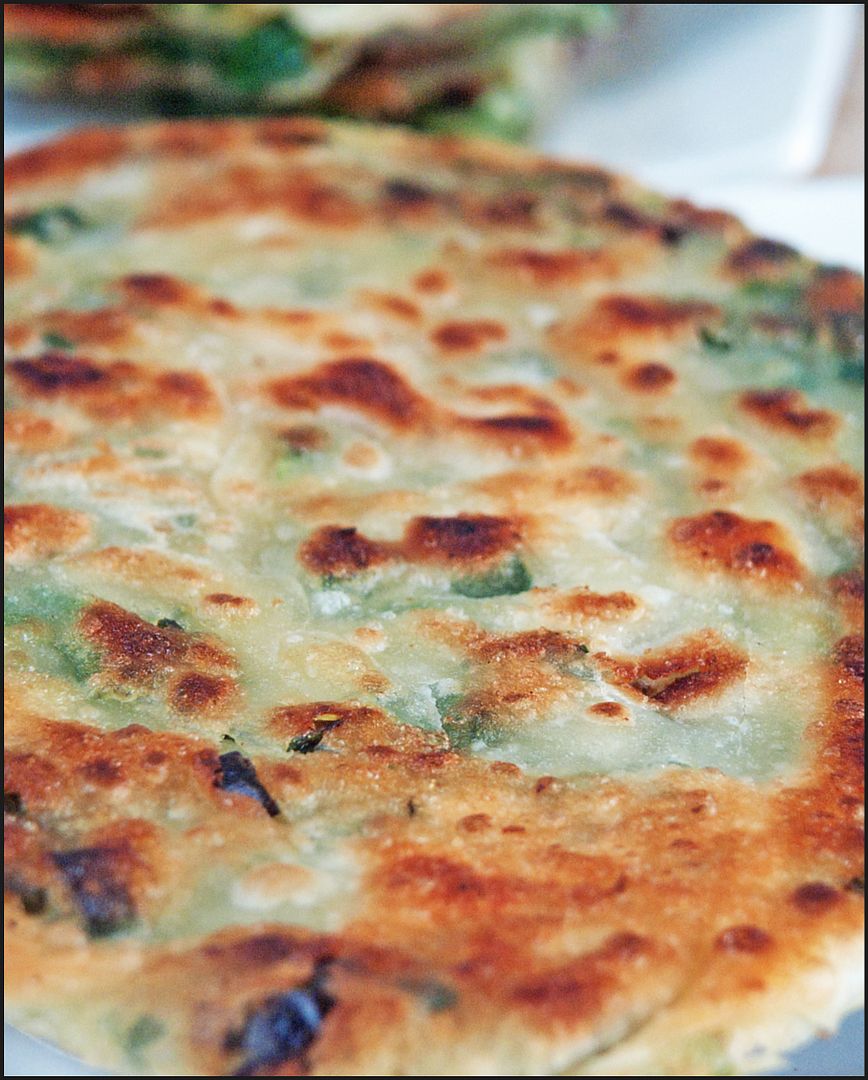 The quality of spring onions is crucial.
If you can't get good spring onions, don't bother making 葱油饼! The small, thin ones (leaves about
½
cm wide or less) with purple stems are my favourite. Rarely find these in supermarkets, btw.
Place flour in a big mixing bowl. Dissolve 1 tsp salt in ½ cup (120 ml) just boiled water. Drizzle over flour. Stir till well mixed. Add ¼ cup room temperature water. Knead till smooth, 10 minutes or so. Dough should be tacky but not enough to stick to hands. If too dry, wet hands once or twice whilst kneading. If sticky, sprinkle with some flour. When dough is smooth, roll into a ball with edges tucked underneath. Cover and set aside to rest for 30 minutes.
Divide dough into 8 pieces. Dust work surface with flour, sparingly. Roll each piece of dough into a ball. Flatten with palm. Roll out as thinly as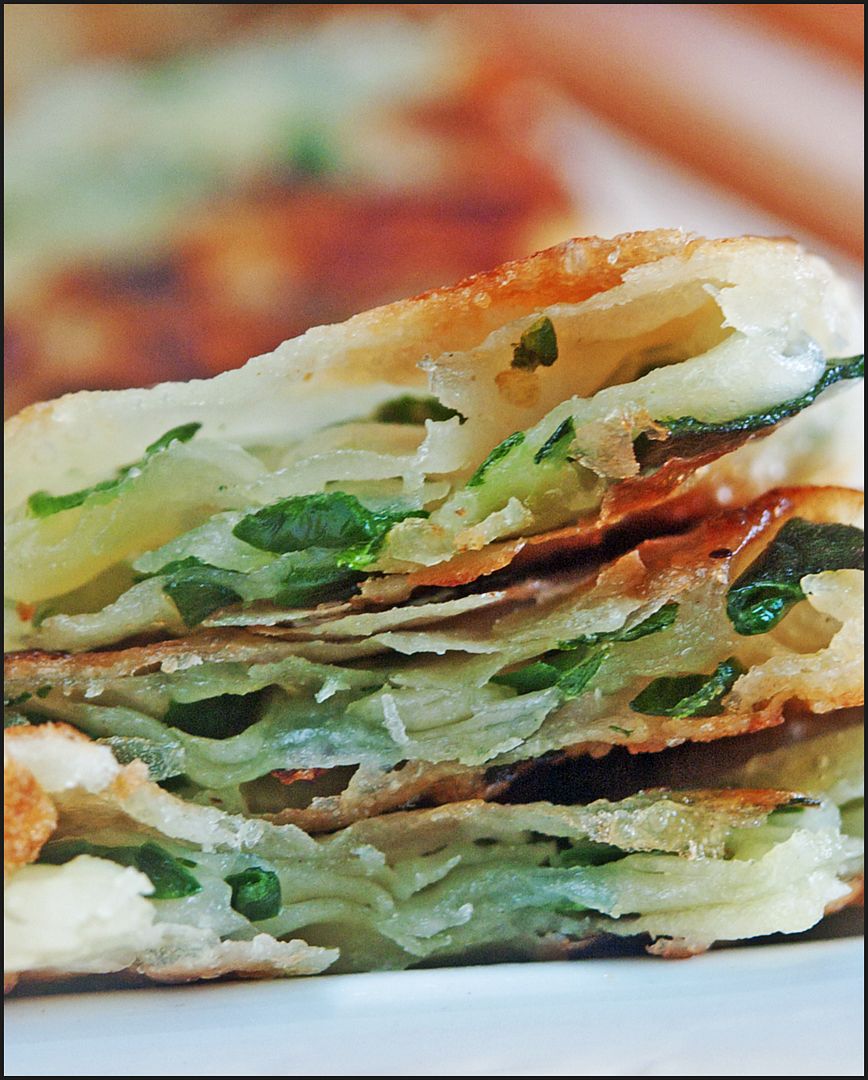 possible. Any shape is ok. If you want it thinner, stretch carefully after rolling. Not too much though, or the dough would break when it's rolled out with spring onions. Brush dough surface with about ½ tsp vegetable oil, leaving ½ cm margin around edges. Sprinkle with fine salt to taste, a large pinch or about 1/8 tsp. Sprinkle with 2 tbsp spring onions, to the edges. Roll up like a Swiss roll, tightly. Pinch edges to seal. Twirl dough so that it looks like a snake coiled up. Flatten top down with palm. Roll out gently into a thin layer,
pressing the middle harder and the edges more gently.
This allows the edges to puff up more when fried, thus making the inside layers more distinct and flakey. Try not to break the dough. A few small leaks are ok but everything inside spilling out isn't. Repeat with remaining dough, redusting work surface sparingly when necessary.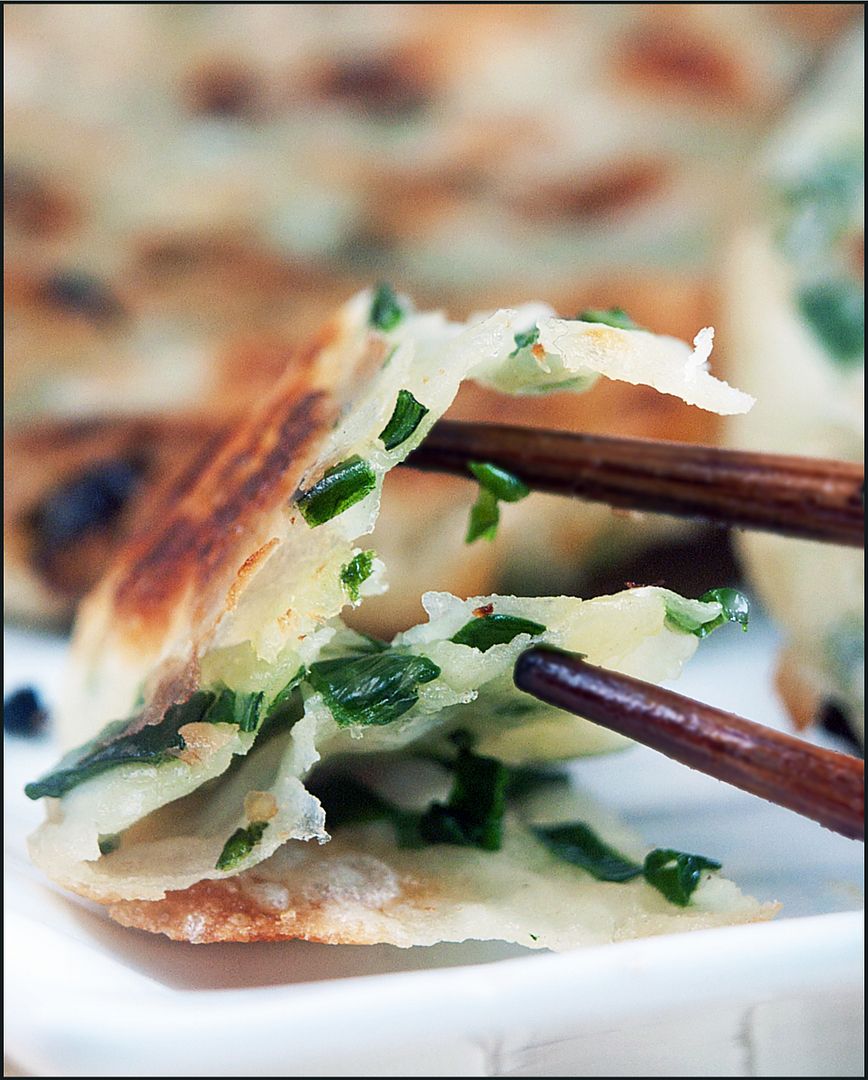 When all 8 pieces are ready, pan-fry in hot oil over medium heat till golden brown on both sides. Whilst frying, press middle of pancakes gently to increase contact between dough and pan. Lower heat if oil starts to smoke. There should be a bit of oil floating in the pan at all times. Otherwise, pancakes are toasted, not fried. Do not put too much oil in the pan in one go. Drizzle more as you fry, especially after turning pancakes over.
Drain pancakes on paper towels after frying. Crush between palms to break up layers before serving. Scrumptious when piping hot.
To eat, tear a small piece with your hands or a fork and pop it in your mouth. If you bite into the whole pancake, you'd flatten the layers of dough and destroy the flakiness. The mouthfeel wouldn't be good, and all your hard work would be wasted. I'm serious, not kidding.
.