Mandarin oranges are a symbol of good luck. Come Chinese New Year, many homes are decorated with mandarin orange plants decked out with lucky ornaments. And crawling from house to house collecting
ang baos
wouldn't be possible without a pair of orange mandarins.
Given mandarin oranges' importance to Chinese traditions, it's a shame these good luck fruits aren't used in any popular CNY recipe. You know, like pineapples are in pineapple tarts.
"旺来", meaning prosperity is arriving, sounds like 'pineapples' in Hokkien. Mandarin oranges' other Chinese name, 大吉, means lots of luck. We should, therefore, eat lots of lucky 大吉 whilst inhaling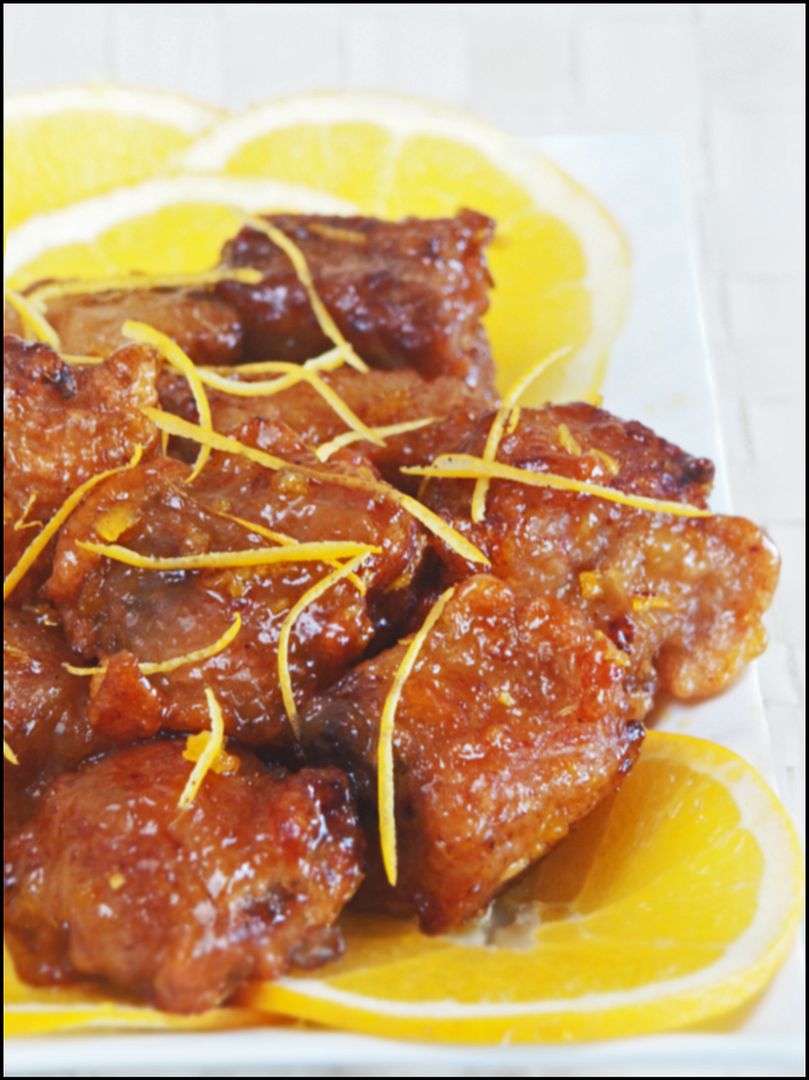 piles of pineapple tarts in the name of prosperity. With the double dosage, we ensure that the arriving prosperity is the best type that falls out of the sky. If we eat only pineapple tarts, we might be prosperous only by working our ass off. That's not as good as getting undeserved riches, is it?
There're lots of wonderful things to make with oranges, like orange cakes, orange cookies, orange soufflé, duck a l'orange and my favourite, Orange Glazed Pork Ribs. I love anything sweet and sour, so these ribs are right up my alley. All the dish needs is an auspicious name to make it perfect for CNY, so I've renamed it 大吉排骨, or Lucky Ribs. After eating 大吉排骨, I'm sure I'll have lots of good luck in the Year of the Rabbit.
Casino, here I come!
ORANGE GLAZED PORK RIBS (橙汁排骨)




(Recipe for 4 persons)


500 g pork prime ribs, chopped 2½ cm (1 inch) long, washed, and dried with paper towels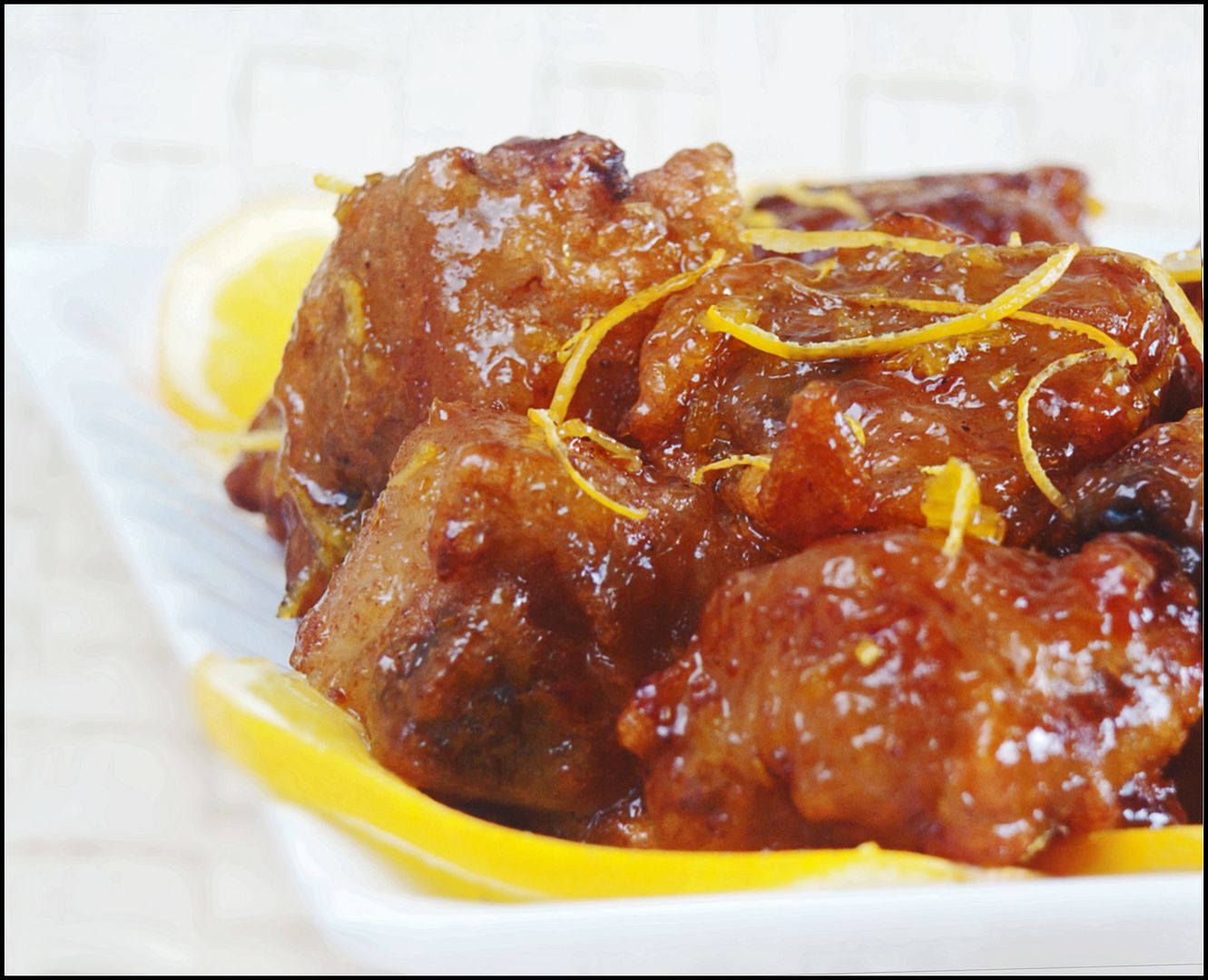 Marinade


2½ tsp salt
½ tsp sugar
2 tsp Shaoxing wine
2 tsp oyster sauce
3 tbsp orange juice

1 tbsp beaten egg
2 tbsp cornflour
2 tbsp potato flour
vegetable oil for deep-frying

3 tbsp sugar
2 tbsp lemon juice
6 tbsp orange juice
1 tbsp finely minced orange zest,
orange slices as garnish, arranged on serving plate
pinch of julienned orange zest as garnish

Mix marinade and ribs till marinade is absorbed. Marinade for 2 hours.

Add egg to ribs and mix evenly. In a separate bowl, thoroughly mix cornflour and potato flour. Tip the whole lot of ribs, plus whatever liquid there is, into the flour mixture. Toss and mix so that ribs are coated with batter.


Deep-fry ribs in moderately hot oil over medium heat till just cooked and lightly brown, 5 minutes or so. Drain.

Reheat oil to just smoking. Fry ribs till golden brown. Drain.

In a clean wok/pan, heat sugar till light brown. Add orange juice and lemon juice, which would solidify the sugar. Bring to a boil, stirring so that the sugar melts again. Cook over medium heat till slightly thickened. Sauce shouldn't be too thin or batter on ribs would be soggy. Sauce shouldn't be too thick either or it wouldn't be sweet because the sugar has caramelized too much, and it may solidify again. When sauce is almost ready, reduce heat to low. Taste and adjust seasoning if necessary. Add ribs and minced orange zest. Toss till evenly coated. Turn off heat. Plate and garnish with julienned orange zest. Serve immediately.

Here's the Chinese video that I more or less follow: