It's another Mrs Wee Kim Wee recipe today:
udang masak nanas
. This is the fourth recipe I've tried from
Cooking for the President
. It's a classic Nyonya soup made with, as its name says,
udang
and
nanas
– or prawns and pineapple for those who don't speak Malay. It's great for whetting the appetite 'cause it's slightly tangy and a wee bit spicy. And prawns are, for me, always a treat.
Udang masak nanas
is an easy soup whether you
masak
as in cook for real, or
masak-masak
as in play at cooking. Just gather all the ingredients in a pot and simmer away – kid stuff!
My mother made a dish very similar to Udang Masak Nanas but, instead of prawns, she used a small fish called
kekek
(ponyfish). The president's wife sometimes used the wonderfully tasty fish too. That's not surprising since the basic recipe is quite common and adaptable. You know what's surprising? Mrs Wee made omelettes with pig brains on Sundays as a treat, just like my mother! Her daughter, like me, had to clean the brains with toothpicks. And the two cooks' recipes were practically the same, not that one could vary a Chinese style omelette much.
It's a pity my mother has passed away. Otherwise, she'd be really tickled to see that she and the ex-first lady share a recipe as esoteric as pig brain omelette.
UDANG MASAK NANAS (PRAWNS IN SPICY PINEAPPLE SOUP)




Source:

Cooking for the President,

Wee Eng Hwa

(Recipe for 8 persons)

2 kg underripe pineapple, tart and not too juicy


Rempah kuning


30 g candlenuts
80 g galangal, wash, peel and grate
8 g turmeric, scrape off skin and wash
2 dried chillies, soak in warm water till soft, about 30 minutes
30 g large red chillies, wash and trim
100 g shallots, peel and wash

20 g

belachan

, toast and grind/pound


. . .

or 8 tsp

belachan

powder
2 stalks lemongrass, lower part only, wash and crush
2 large turmeric leaves


. . .

wash, tear from main vein 2.5 cm wide, and snip off fibrous ends
4 pieces tamarind skin
sugar to taste, about 8 tbsp
salt to taste, about 4 tsp salt
4 litres water (I used only 2 litres)

1 kg large or medium prawns, 16-32 pieces, trim, devein and wash
50 lemon basil leaves


Dip


4 red bird's eye chillies, rinse and crush
2 tsp dark soya sauce
4 tbsp light soya sauce
2 calamansi limes


rinse, halve and combine juice and peel with all other ingredient




Peel, core and rinse pineapple. Cut into chunky, bite size slices. Reserve core for making soup.

Pound or grind ingredients for

rempah kuning

till very fine.

Put all ingredients (including pineapple core) except sliced pineapple, prawns and lemon basil in a pot. Bring to a boil and simmer gently for 10 minutes, covered. Add sliced pineapple and top up with water if necessary to cover by about 1 cm. Simmer gently till soft, 10-15 minutes depending on how ripe the pineapples are. Discard pineapple core and tamarind skin. Taste and adjust seasoning if necessary. If soup lacks 'oomph', increase heat and reduce by boiling rapidly. Set aside till ready to serve.

'This is a classic Nonya soup with well-balanced sweetness, sourness and saltiness. The sugar sweetness is just enough to counter the tartness of the pineapple, but is not dominating . . . . The soup has character and substance, yet is not thick. It should be easy to drink.'




Wee Eng Hwa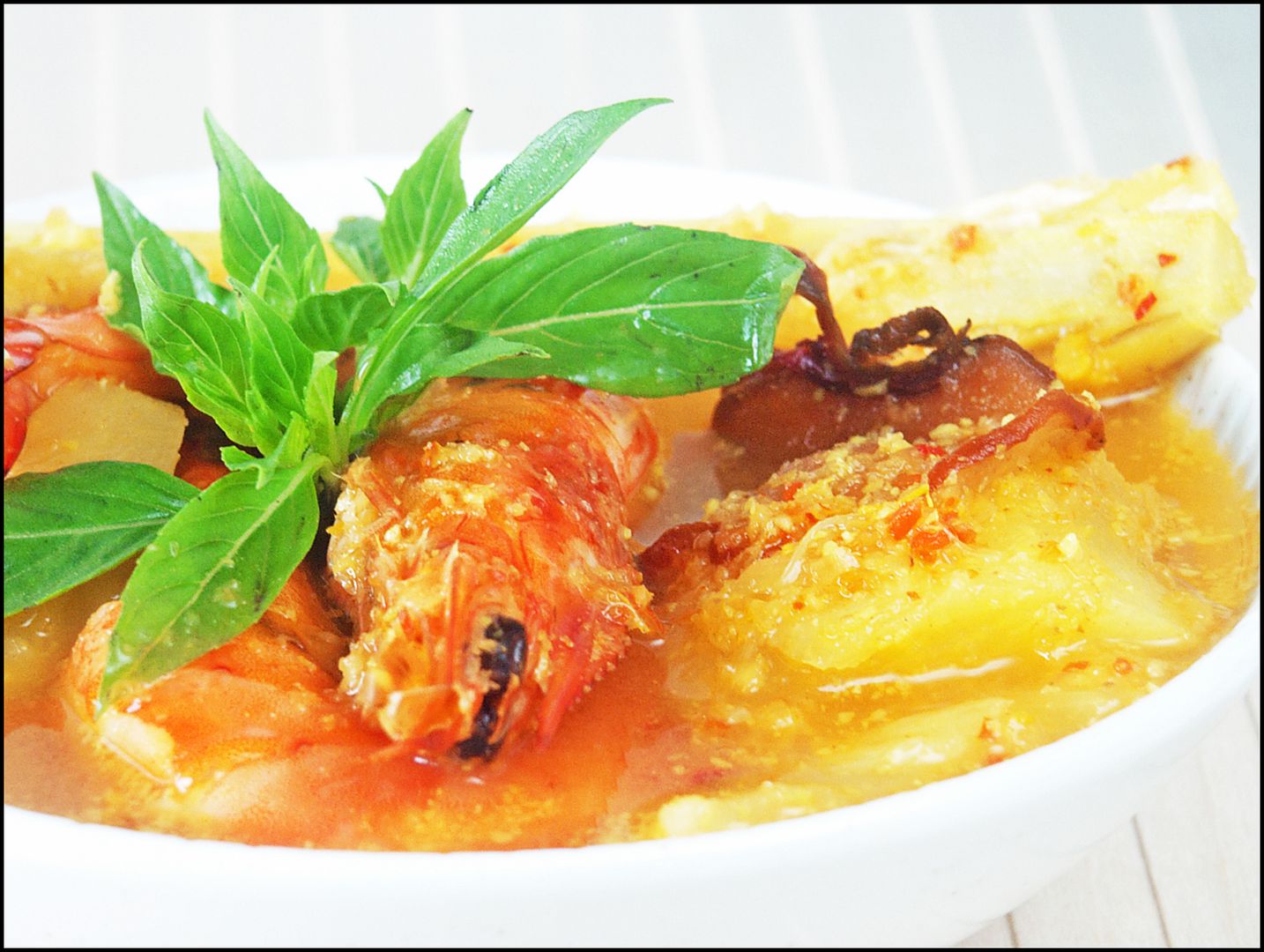 When you're ready to eat, bring soup to a boil. Add prawns and poach till just cooked, stirring and turning as necessary to ensure even cooking. Transfer everything to a serving bowl immediately, arranging prawns on top. (Don't hide prawns underneath pineapple or leave them in the pot. Otherwise, they would overcook in the residual heat.) Sprinkle with lemon basil. Serve with chillies, dark and light soya sauce, and lime juice and peel combined as a dip.