Bangkit
isn't a kit for banging. "
Bang
" is "香" in Teochew and Hokkien; "
kit
" is "cake" mangled; "
kueh
"
is . . .
(just about)
anything edible
any local delicacy served kinda snack size. In short, "
kueh bangkit
" means fragrant cookies.
How to make "fragrant cookies" that are not only fragrant but also melt-in-the-mouth?
First, bake or nuke the tapioca (or sago) starch till its weight is reduced by 13% (or 12% if it's a newly opened bag). This is a crucial step because H
2
0 is the #1 enemy. If the starch isn't dry enough, the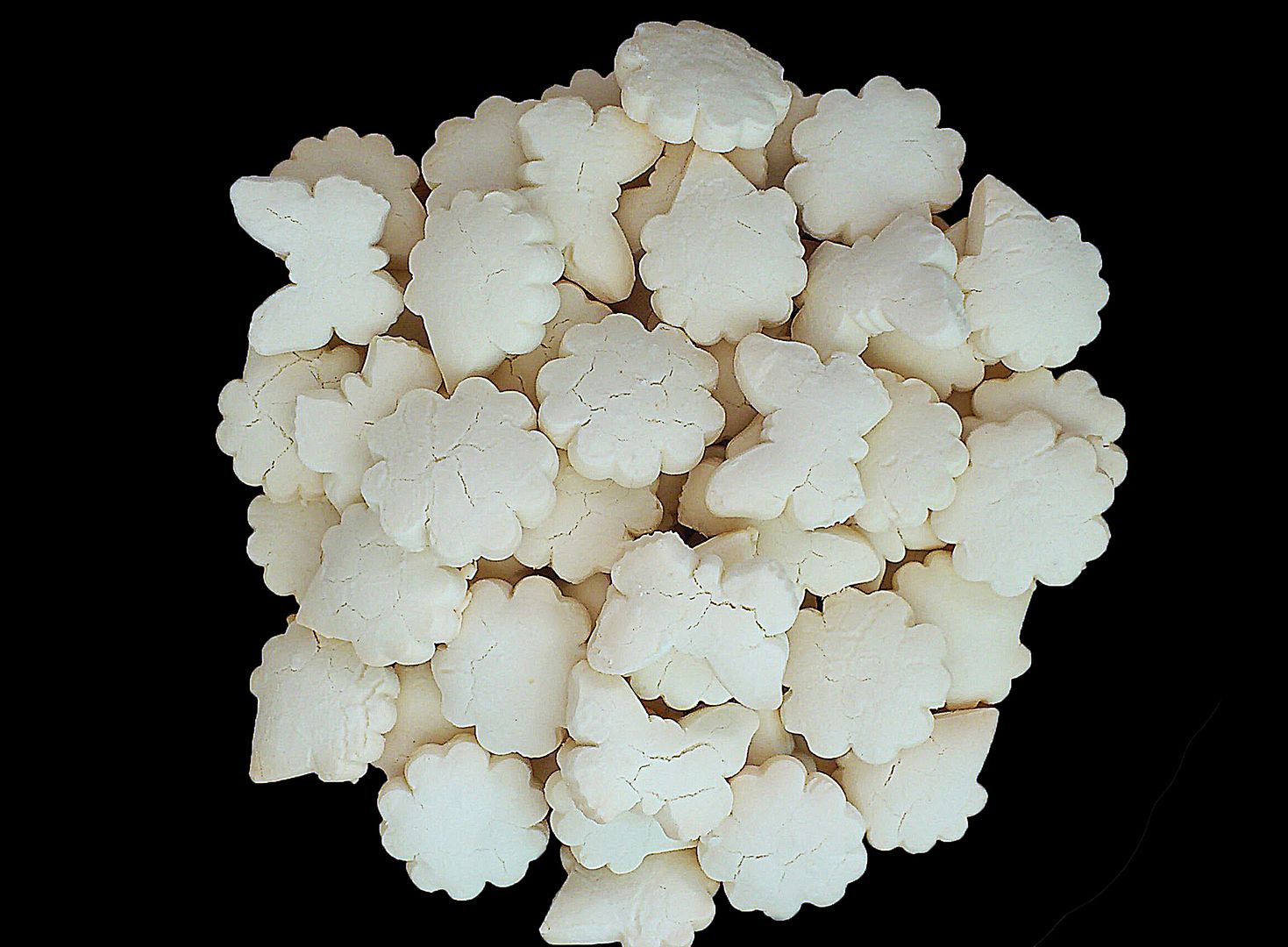 kueh bangkit
will not crumble in the mouth and melt. Instead, it'll be hard and crisp.
Second, use coconut cream instead of coconut milk because cream has less water than milk, and is more fragrant. It doesn't make sense to remove the moisture in the starch, then put it back by adding watery milk, right?
Third, there must be enough eggs because eggs have a leavening and softening effect on the dough.
Can you use canned instead of fresh coconut cream?
Pandan
essence instead of
pandan
leaves? Well, there're many roads to Rome. Do you want to arrive in Rome in a Ferrari or Toyota? Or, god forbid, Proton?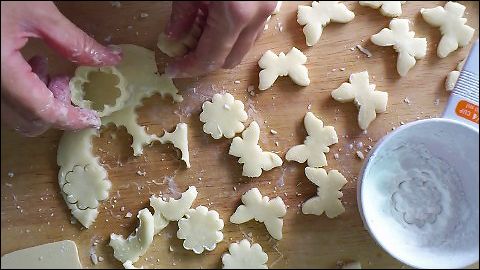 The recipe I'm sharing is from
Cooking for the President
. It's the only
kueh bangkit
recipe I've tried but I feel I don't need to search further. This is "the one" for me. Me being me, however, there're a few minor changes to the original recipe. I have:
Added 1/8 tsp salt to cut through the sweetness. Don't underestimate the importance of a large pinch of salt. It improves the taste of the cookies significantly.
Omitted stirring the eggs and sugar with
pandan
leaves, unheated, because I don't think much
pandan
flavour would be released just by stirring.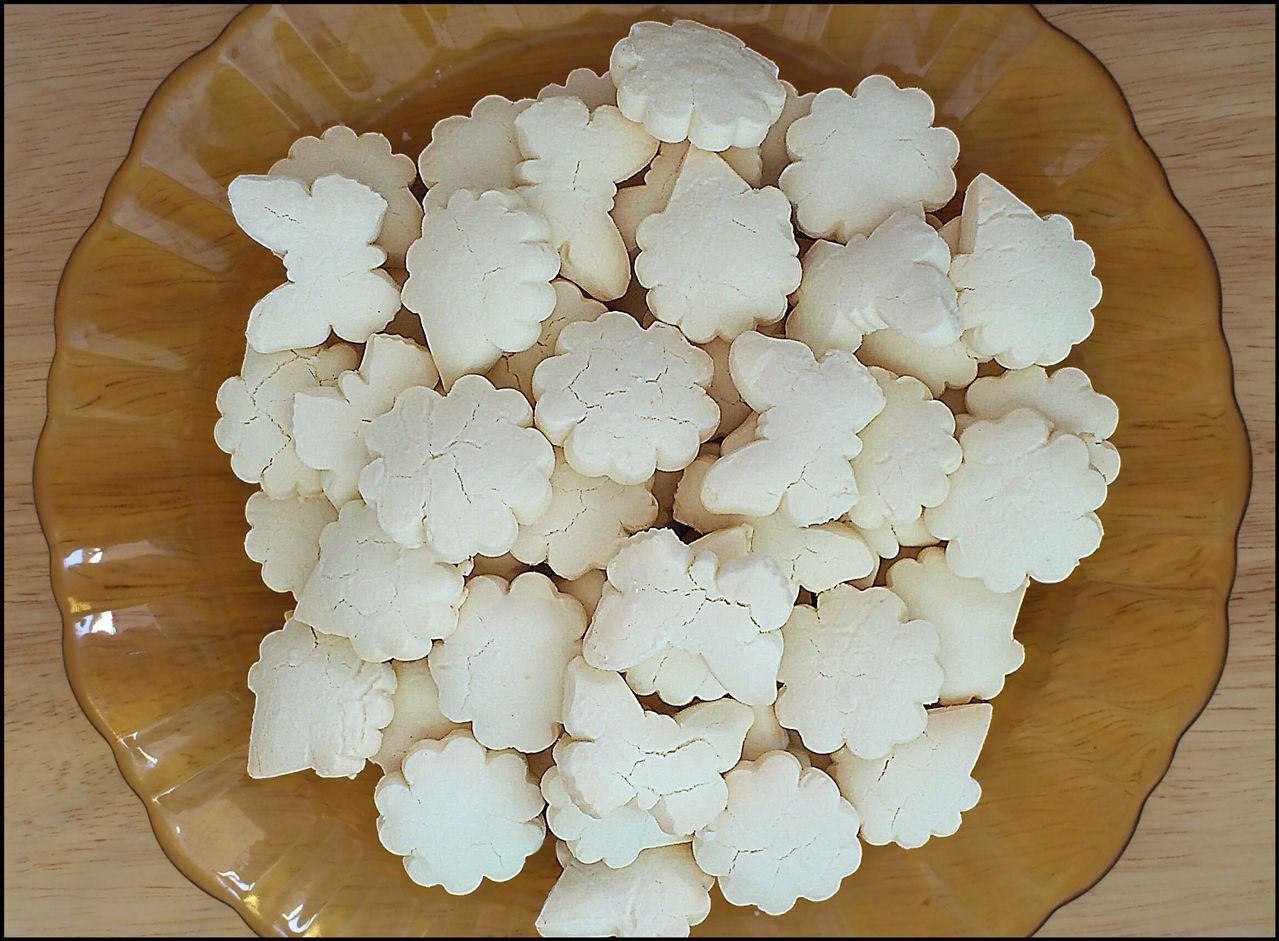 Replaced undiluted coconut milk with coconut cream. The original recipe uses part milk and part cream whereas I use only cream.
Changed the method for drying tapioca starch. Baking is better, I think, than dry-frying in a wok over low heat. I'll try the traditional method when I want to change my kitchen's colour scheme to white!
Increased the baking temperature to 160°C from 150°C. The higher temperature makes the cookies puff up a bit. The slight puff helps make the cookies more crumbly. And the hairline cracks created as a result are quite pretty, don't you think? Of course, if you're a stickler for tradition, you may still want to make patterns on the cookies by pinching each and every one of these little suckers with tweezers. Hey, be my guest, have fun; don't let me stop you, you go right ahead; enjoy
yourself . . . .
Chinese New Year is just round the corner. Wanna make some
kueh bangkit
? Here's my video to show you how:
This is my last post for the year. See you in 2013. May we all cook and eat better in the new year.
KUEH BANGKIT (

KUIH BANGKEK;

COCONUT COOKIES)


Source: Adapted from Cooking for the President
((Recipe for about 150 pieces)


380 g tapioca starch
1/2 tbsp plain flour
50 g young pandan leaves


rinse and cut finger length; dry thoroughly with paper towels


170 g coconut cream


refrigerate 350 g undiluted fresh coconut milk undisturbed till cream separates, at least 3 hours; skim 170 g cream and place in a small pot; refrigerate till ready to proceed

120 g sugar
1/8 tsp salt
1 egg, about 50 g
1 yolk, about 15 g
5 g butter

Sift tapioca starch and plain flour into mixing bowl. Weigh and take note of weight. Tuck pandan leaves in mixture. Bake at 160°C for 1 hour. Discard pandan leaves. Re-weigh bowl and contents. If not lighter by 45 g or more, continue baking. When target weight is reached, turn off oven. Leave bowl in oven till almost cool. Re-sift starch and flour, inside a plastic bag unless you enjoy dusting your kitchen. You should have about 335 g starch mixture. Leave till completely cool.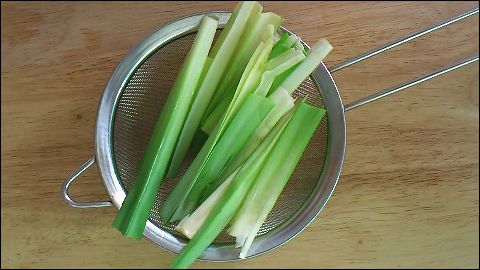 Whisk coconut cream, sugar, salt, egg and yolk till smooth. Cook over low heat, whisking, till sugar just melts. Turn off heat. Add butter. Whisk till incorporated. Leave till cool. You should have about 360 g coconut syrup.

Set aside 20 g baked starch for dusting. To remaining 315 g, add 315 g coconut syrup. Mix till well combined. Knead thoroughly till smooth and even, drizzling with remaining syrup as necessary, about 2 tbsp, so that dough just comes together. Cover and set aside 10 minutes.

Preheat oven to 160°C. Line baking tray with parchment paper. Lightly dust parchment paper with baked starch.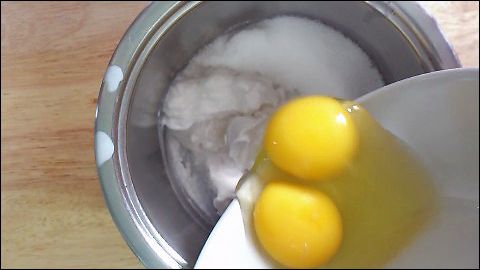 Lightly dust worktop and rolling pin with baked starch. Working with golf ball-sized amount each time, roll dough 3 mm thick, dusting as necessary to prevent sticking. Cut dough with dusted cookie cutter measuring about 3 x 2 cm. Place cookies on baking tray spaced 1 cm apart.

Bake cookies till bottom is slightly brown and top has hint of colour around edges, about 15 minutes. Remove cookies to wire rack or plate to cool down. Serve immediately or store airtight.